About the artist
---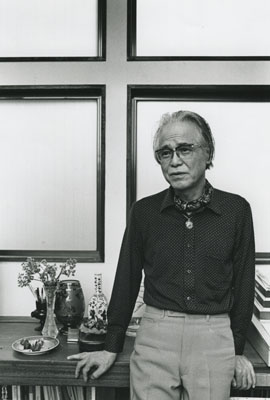 Tsunero Kokuryo was born in Yokohama, Japan on October 12, 1919.

He graduated from the teacher-training course at Tokyo Fine Arts School (Tokyo Bijyutsu Gakko)* in December 1941. Financial constraints had dictated that Kokuryo train to be an art teacher but his training took on great significance in his later life because as well as becoming pre-eminent as a painter, he also specialised in art education.

Kokuryo left Tokyo Fine Arts School almost immediately after Japan's entry into the Second World War. Graduation for the school's students had been moved forward due to the outbreak of hostilities in order to facilitate enlistment in the armed forces. By January of the following year, Tsunero Kokuryo had obtained a teaching position at what is now Kashiwazaki High School (then known as Kashiwazaki Chugakko) in Niigata Prefecture, but after gaining this post, he was inducted into the Japanese military and sent to China.

He was discharged after the end of hostilities and returned to Japan. In 1947, after being re-certified as a teacher, he was at last able to take up his post at Kashiwazaki High School. During his years in the military and then after his discharge, he had continued to paint. In 1947 his painting "The Female Doctor" was accepted for display at the Japan Fine Arts Exhibition (Nitten) of that year.

In 1950, he returned to Tokyo in order to teach at Omori High School (Omori Daiichi Chugakko). While teaching there, he submitted other paintings to Nitten and Kofukaiten. In 1954 he submitted his painting "A-ko In a Red Dress" for the tenth Nitten exhibition. From this point until the mid-1970s he painted in the Pointillist style. His method of employing this technique is his own. He uses various sized dots placed together with great care and extreme precision. This produces a variety of patterns or effects of the points themselves, which is further enhanced by applying the paint in different thicknesses.

Towards the end of this Pointillist period Kokuryo began depicting sand dunes in some of his paintings. These "dune" paintings continued to develop until the end of his life so that the sand dune became perhaps the most characteristic motif in his art. At first sight, many of these paintings seem to depict an inorganic barren landscape but closer examination reveals that human figures have been present at some time before the painted moment. Their traces can be seen in the form of footprints or furrows in the sand, a wrecked boat and so forth. In other paintings nude female figures are depicted against these backgrounds, their bodies mirroring the lines of the dunes themselves.

Apart from technique and motif what is most striking and attractive about Kokuryo's work is its deep spirituality. Solitude, the estrangement from nature, those elements that are so emblematic of the modern human condition find a visual representation in the paintings. These works offer a universally recognizable expression of the mind's own scenery. For this artist the dune is an image of the modern world itself, which is, perhaps, why young people respond so favourably to the work. This is shown in the fact that the artist was awarded the second Miyamoto Saburo Award in 1983 and also the 47th Japan Art Academy Award (Nihon Geijutsuin-sho) in 1991.

During his lifetime Tsunero Kokuryo became the leading exponent of modern Western art in contemporary Japan. However, he also achieved much as a specialist in art education. He became secretary to the Tokyo prefectural government education committee, He also began teaching at Yokohama National University's department of art education in 1968, where he taught the coming generation of art teachers until 1985, when he retired as professor.

Tsunero Kokuryo died on March 13 1999 at the age of 79. At the moment of his death, preparations for a major retrospective of his work at the Yokohama Museum of Art were almost complete. The exhibition, which opened in the April, served to sum up his greatness as an artist.

* The school, which was founded in 1887, later merged with Tokyo Music School (Tokyo Ongaku Gakko) to form Tokyo National University of Fine Arts and Music (Tokyo Geijyutsu Daigaku).